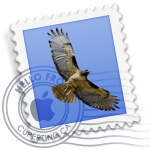 In a workplace there are times when multiple individuals would like to send mail using different email addresses other than their own address. A perfect example is when a company has a general mailbox for public use or use within mass marketing emails. An assistant may want to send out a message using that general address as the address to which the recipient replies. While most mail clients allow this using the "Reply-to" field or custom header. Apple Mail however, unlike most mail clients, easily allows a user to mask their address and make it look like the message actually originated from that general address.
Requirements
Apple Mail (any version)
An email address setup in Apple Mail to both send and receive messages
A separate email account setup to receive messages
Procedure
Make Apple Mail the active application by clicking its icon in the dock or within /Applications/Mail.app.
Select "Preferences" from the "Mail" menu.

Select the "Accounts" tab.

Select the account from which the message is going to be sent.

Enter a comma followed by the address you would like messages to appear to be sent from in the "Email Address" field. In our example, we would like Greg to be able to send messages from "info@tech90.com" as well as his actual address of greg@tech90.com.

Click the "Close" button to close the "Preferences" window. Apple Mail will prompt you to save the changes made in the "Preferences" window. Click the "Save" button to confirm your changes.
Click the "New Message" button to compose a new message. A new "From:" pop-up menu will appear. Select which address the message you would like the message to be coming from.